The AIRE Tributary Strike Inflatable Kayak is 10′ long and 37″ wide in the center. Strikes come in light blue and weigh 36 pounds.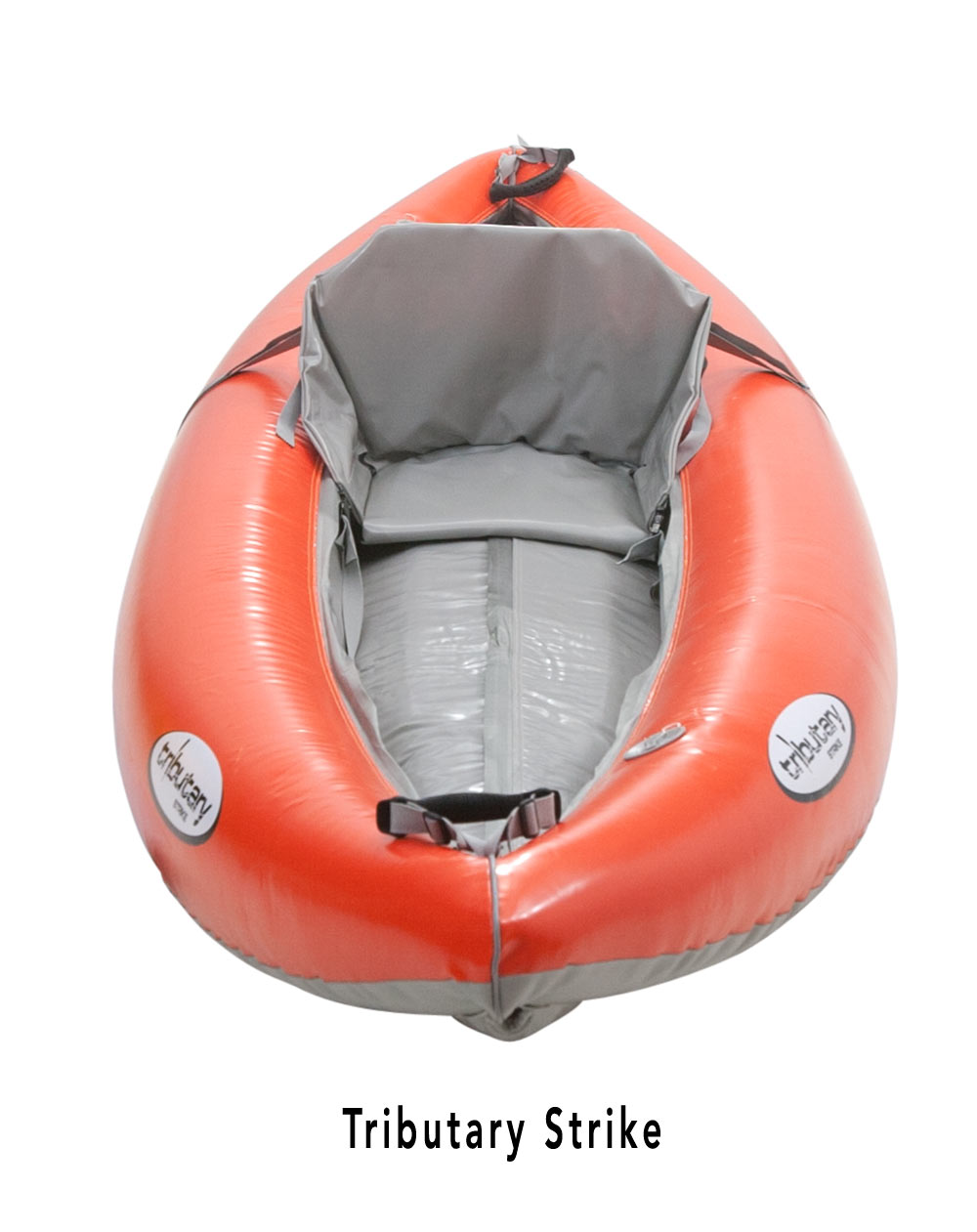 So far the only unfavorable feedback on the AIRE Tributary Strike Inflatable Kayak has been from a couple of larger fellows that were in the 250 to 275 pound range, and from a few paddlers who've had trouble keeping the boat straight in large diagonal waves (and this is indeed difficult due to the fairly low bow rise). Everyone else including us has felt this is a top contender among AIRE's line with it's quick predictable handling, even if it is an import. It is in fact our favorite among AIRE's five solo models.

AIRE Tributary Strike Inflatable Kayak Has Value
The AIRE Tributary Strike Inflatable Kayak falls in between the less expensive Tributary Tomcat and the American made Lynx in several ways. It has a five year warranty that does not cover owner damage like the U.S. boats. This is much better than the one year coverage that Tomcats have, only half as long as the Lynx, but the same as most other high end whitewater models. The outer material is the same Chinese pvc used for the Tomcats – 500 denier on the top blue part of the body, and super thick 1000 denier pvc on the grey underside. However, a major difference is that the tube bladders are the same urethane as AIRE's U.S. boats, not the heavier, less stretchy vinyl used on the Tomcats. This improves the long term reliability tremendously. Rather than replacing bladders after 8 to 10 years you should be looking at more like 20+ years for the urethane. We say "should be" since many 1989 and 1990 AIRE boats are still running around with the original bladders. We honestly don't know what to give for a lifespan on them since AIRE has not been around long enough to say. Another important difference is that the underside Tomcat seams (where the red or blue meets the gray floor material) are sewn, but the Strike's bottom seams are welded like any other AIRE product.
Hull Design on AIRE Tributary Strike Inflatable Kayak
In hull design, the AIRE Tributary Strike inflatable kayak retains the width and high stability of the Tomcat, but it has rocker on the ends (15″) closer to what you find on the Lynx, with a zippy elliptical shape like a widened Force XL. All in all, for most middle of the road class III and IV paddlers, this might be the very best choice of all. For the extra price it does seem to offer a lot more value than the Tomcat.
AIRE Tributary Strike Inflatable Kayak has Excellent Performance
It has excellent performance, arguably better than the Lynx, as long as the pilot is under 200 pounds. With paddlers between about 190 and 225 pounds, it has about the same hull speed as the Lynx. For larger paddlers above 230 pounds it will actually get slower, which is why we previously mentioned the larger paddlers not being as enthused. The smaller footprint of the Strike combined with a floor that inflates thinner than the Lynx I means big paddlers will bog it down more than a Tomcat or Lynx model. However the thinner floor also keeps your center of gravity lower and makes the Strike very stable. Strike I's and Lynx's both track poorly, so you need a bit of patience to get used to them. You can purchase one of our bolt-on AIRE fin kits if your use will be primarily on flat water.
The AIRE Tributary Strike Inflatable Kayak uses Summit valves like the Tomcats, which have been quite reliable, but the valve cap strings can tear off if you don't lock the cap on fully clockwise. This is one valve you must use a valve adapter with, and it is included in the little patch kit. An exception to this rule is that if you use either a K-Pump or and EZ-Pump, their inflation tips will fit the Summit valves without an adapter.
We will note that all seven Tributary kayaks – the three Tomcat models, solo & tandem Strikes, and the two Sawtooth kayaks – are less stiff now than they used to be. The original side tube fabric was 900 denier back a while ago, and as mentioned above it's now a 500 denier base fabric. No matter what the pressure, none of the Trib kayaks will get as stiff as older models used to. If you run big water (or big ocean waves in a Sawtooth), this is something to keep in mind since tacoing could occur.
Please note that any accessories purchased with your boat are 10% off, and also note that our shopping cart as yet does NOT reflect these discounts – it will show a higher total so we will adjust the bottom line before ringing the transaction through.
Free UPS ground to lower 48 state destination, or an allowance for other destinations.
⚠️ Warning: These products are made of PVC and can expose you to chemicals including Di(2-ethylhexyl)phthalate (DEHP) which are known to the State of California to cause cancer and birth defects or other reproductive harm. For more information go to www.P65Warnings.ca.gov