New for 2015 AIRE Tributary Sixteen HD River Raft. A few years back AIRE introduced a new, larger size self bailing Tributary raft now known as the Sixteen HD, measuring 16'2″ long by 7'2″ wide. This is one of two full size AIRE sixteen footers, along with the newer American made 160DD (the "Double D"). Both have almost identical measurements, except that the 160DD has 2″ more interior width, because it's main hull is one inch smaller in diameter than the Trib 16. The Trib Sixteen has 22″ tubes like the U.S. made 156 series.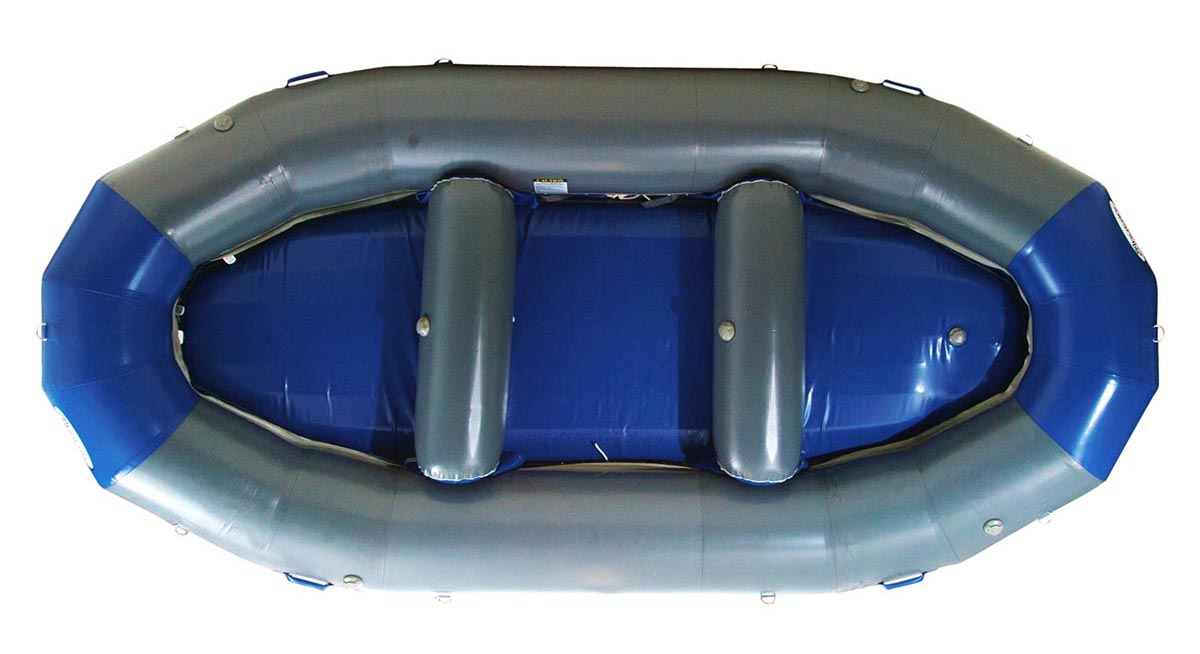 For the first time in many years there are some changes to AIRE's imported Tributary whitewater raft line. Measurements on the new models will remain the same but the weight has increased somewhat. This is due to a new hull material with a thicker coating on the outside. The new Sixteen HD is roughly 178 pounds with both thwarts, and the thwarts are another area where a change has been made. Up to now all the Tributary river rafts 12' and up came with three knuckle-mounted thwarts. The thing was, many people removed their thwarts for a rowing frame anyway, especially on big rafts like this one. Therefore the new edition comes with just two, but they are repositionable lace-in style like the American AIRE rafts. A third thwart can be purchased. If you remove both thwarts, the Sixteen HD drops to 168 pounds.
Another obvious difference is in the colors. Rather than being a solid medium-blue on the side tubes and floor bottom, the new Tributary line is done with alternating colors. These are either dark blue for most of the side section and thwarts, and dark gray for the floor top, bow, and stern sections, or vice versa depending on size. The base fabric of this new material is beefy 2000 denier polyester, so as with the older Trib's, nearly impossible to tear. It also has more abrasion resistance because of the thicker outside coating. There have been some minor changes to the taper and floors, but you would have to look close to notice these. Tributaries have decreased in price for the second time in three years, and remain a solid value – one of the very best in fact. The welded seams and replaceable bladders mean a Tributary should last decades, and though these new ones are a bit heavier than prior Trib models, they still roll up much smaller than almost any other Asian pvc raft. They are one of the very few that we can get back into the factory box in fact!
All Tributary raft floors are laced in at the factory for fast draining, and can be removed for warranty service should the need arise, rather than forcing you to ship an entire raft as most other manufacturer's would.
Easy to Roll Up – AIRE Tributary Sixteen HD Raft
One thing that stands out with the new Tributary rafts is how easy they are to roll up. The new material inflates very stiff, much like the older Ferrari pvc (Ferrari is a brand name unrelated to the car company), yet the suppleness of it when deflated is amazing. It is actually softer and easier to roll than many of the hypalon boats. We had no problem getting a 14′ Tributary back in it's box. So if you are not using a trailer with one of the bigger sizes of Trib rafts, getting one into the back of an SUV, truck, or even a mid size hatch back wagon is very do-able.
AIRE Tributary Sixteen HD River Raft Shipping Notice
Please note that due to the high weight of this AIRE Tributary raft, the rate module that works with our shopping cart will not calculate the shipping properly for the Sixteen HD since it cannot go by UPS. You do get a $150 allowance toward delivery fees, so if the raft goes to a business address this may come close to covering it if you are not east of the Rockies. You can definitely phone us at 925-820-BOAT with your specifics so we can give you an accurate freight quote. We are generally around Monday through Saturday from 9:30am to 6:30pm pacific time.
Specs for AIRE Tributary Sixteen River Raft
The rocker on the ends of the Sixteen HD is 15″, so this should be a good raft for big water. We have not rowed one ourselves. The load capacity is given as 1,800 pounds, and that seems pretty realistic. Like the Fourteen and Thirteen HD, it has four main chambers. The inside width with thwarts (or at least one thwart) fully inflated is 42″, or about 40.5″ without either thwart.
Have you rowed a AIRE Tributary 16.0 SB River Raft? If so, and you have a few minutes, kindly post a review. We are not really fans of larger rafts over 14′ so it's rare we personally use anything this big. Let us & your fellow boaters know your impressions, good, bad, or indifferent.
5% Motor Freight or gear credit will be added after purchase